As a parent, I'm sure you worry about letting your kids loose on the web. It doesn't matter if it's on your home pc, tablet or smartphone…there's some awful stuff out there.
For younger children, you have to be in charge, and there's nothing worse than trying to think of what they can do online to entertain themselves.
You want to know they are safe without being overly intrusive. The problem with older children if left to their own devices while browsing the web. They can quickly end up searching for things that end up with inappropriate results.
The easiest way to have some control is to decide what you want them to experience and how beneficial it is.
So, to help you with websites that are child safe, are fun to use and also can be educational. We have done some research and come up with the best seven sites (in our opinion) that fit the above.
---
Website Name: BBC Bitesize
Age: 3 – 16
URL: https://www.educationcity.com/
Covers all areas of the curriculum, ranging from primary school level up to GCSE exams.
It's free to use and includes animations, revision flashcards and interactive sections to help your kids learn.
---
Website Name: Oxford Owl
Age: 3 to 11
URL: https://www.oxfordowl.co.uk/
It helps children learn reading and maths, and there are also top tips for parents to help their child with their learning. There are also over 250 free ebooks.
---
Website Name: National Geographic Kids
Age: 6 to 13
Image: √
URL: https://www.natgeokids.com/uk/
It has some stunning images and interactive games and colouring books. A lovely site for children to learn more about animals, wildlife and the world around them.
---
Website Name: Top Marks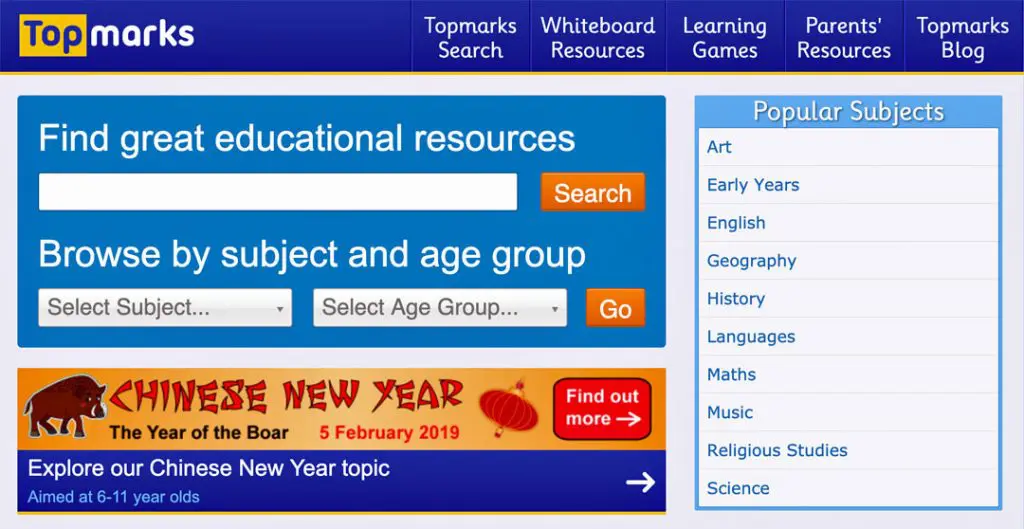 Age: 3 – 16
URL: https://www.topmarks.co.uk/
An independent educational website for kids, parents and teachers.
It's free to use and links through to useful online resources for subjects including maths, science and languages.
---
Website Name: Learning Games for Kids
Age: 3 – 16
URL: https://www.learninggamesforkids.com/
Has lots of learning games for kids – divided into school year groups – so you can find the right level of games for your child.
It covers everything from vocabulary to geography, literature and maths.
---
Website Name: CBeebies
Age: 3 – 11
URL: https://www.bbc.co.uk/cbeebies
Some great learning games, quizzes and a huge selection of topics to explore. Some of the topics include food and simple recipes for children to follow, and arts and crafts ideas to recreate.
Highly engaging and beautifully designed.
---
Website Name: Make Me A Genius
Age: 4 – 12
URL: https://www.youtube.com/user/makemegenius
Please note: The website for make me a genius is only "http" so is not secure, but they have a great youtube channel which we have linked to.
Filled with videos that cover a variety of subjects, such as physics for kids, photosynthesis, the nervous system, solar system and electricity. All of the videos are kid-friendly and will keep even your youngest children interested from start to finish.
---
Question
What do you think of our website choices? If you know some great sites that are not on the lists above, please let us know and we can include them the next time we post about great websites that are safe for your kids.