We've been looking at family and child-friendly board games this month. It's impressive that so many of the old favourites when we were kids are still favourites today.
Of course, things have changed, and more time is spent in front of a screen. Whether it's a smartphone, tablet, laptop, PC or TV, we have screens in front of us all day.
The problem with most screen time is that it's a solitary pursuit and leaves little time for family quality time.
That's why we decided to investigate what types of board games and other games are available so that you can change things up from time to time with your kids.
We have put together a list of our favourite five by age group, and have also listed the maker, age and a link to where you can find it online.
3 to 5-Year-Old Games
---
Hi Ho Cherry-O Game
By: Hasbro
Age: 36 months – 6 years
Help your preschoolers develop and practice basic math skills. Have a blast picking fruit from the trees and filling their buckets.
For over 30 years, Hi Ho! Cherry-O has delighted children and parents with its simple-yet-fun introduction to counting. Children try to be first to pick their trees clean, filling their buckets with cherries. Just watch out for the dog, the bird, and the spilt bucket! Colours and parts may vary. No reading required. Hi Ho! Cherry-O includes game-board, four cherry buckets and 40 plastic cherries.
---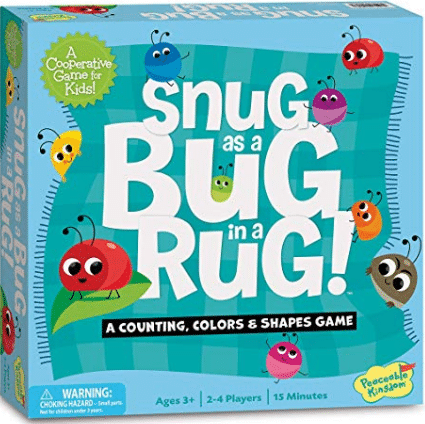 Snug as a Bug in a Rug
By: Peaceable Kingdom
Age: 3 years +
Playing time: Approx 15 minutes of gameplay.
Spin the spinner and find the matching bug, then slip it under the rug! Get all the bugs under the rug, before 3 stink bugs stink up the place, and everyone wins! This is a 3 level game – making it suitable for multiple age groups. It helps to develop skills in colour, number and shape recognition, counting, the concept of big and little as well as cooperation. Co-operative games encourage children to work together as a team in respectful and compassionate ways. They learn to share, make decisions together and trust one another, all while working towards a common purpose – defeating the game.
---
Hungry Frogs
By: Toyrific
Age: 3 years and up
Children will go hopping mad for the fast and frantic Toyrific Hungry Frogs game. The four-player action game aims to feed your frog more marbles than any other player by rapidly pressing their flipper switch. Pressing the flipper switch causes the frog to lurch forward, open its mouth and gobble up any marbles within its vicinity. It's quick and easy for children to pick up and terrific fun to play with friends or family.
---
Elefun
By: Hasbro
Age: 36 months – 8 years
The motorised Elefun elephant will trumpet call and play music to start the game. He plays music while he blows butterflies from his 3-foot trunk. The player who catches the most butterflies wins. The Elefun game is back and ready for a fluttery, butterfly chase. Elefun begins the game with a trumpet call and plays music throughout the game as he blows colourful butterflies out of his three-foot trunk. Players take their nets and race to catch as many butterflies as they can. The player who collects the most butterflies wins the game.
---
Feed the Woozle
Age: 36 months – 6 years
Playing time: 15 minutes
Feed the Woozle is a co-operative game. All the players play together against a common obstacle rather than against each other. The Woozle is hungry! Can you feed the Woozle 12 silly snacks from the spoon? Get them into the Woozle's mouth, and you all win!.
Feed the Woozle: A Game of Silly Snacks and Mixed-up Moves! Chocolate-covered flies and hairy pickles? Yummy! The big mouth Woozle is hungry. Can you feed him 12 silly snacks from the spoon before all the snacks are gone? Play together work together and have some monstrous fun!
---
6-8 YEARS OLD GAMES
---
Make n break
By: Ravensburger
Age: Suitable for ages 8 years and up.
Playing time: 30 minutes.
Roll the dice, set the timer and using the 10 colourful wooden blocks, race against the clock to build the most structures in the allotted time. Try to replicate as many of the 60 structures on the challenge cards as you can in the time indicated by the dice, you will find some structures easier to build than others.
The challenge cards vary in difficulty, and the structures on the higher scoring cards will take you longer to construct. But it is just the luck of the draw which challenge cards you will be faced with. Be careful not to knock the incomplete structure over while your fingers race to build it, as you will just have to start again.
Make-n-break is the laugh-out-loud fun and exciting game for all the family. It is suitable for 2 – 5 players aged 8 and up, and is the perfect game to play when spending quality family time.
---
Pig Goes Pop
By: Ideal
Age: 4 – 10 years
Fun-filled action packed game. Take turns to continuously feed the greedy pig hamburgers! Watch the pig stomach get bigger and bigger. Be prepared when his tummy finally goes POP!
The greedy Pig Chef loves consuming hamburgers, but there's only so many he can eat before Pig Goes Pop! Players take turns to feed the pig a burger before pumping his head to make his tummy grow bigger and bigger. Eventually, his belt will buckle under the strain, and his belly will pop out of his coat!
Careful he doesn't pop on your turn, or you'll be out of the game. Tense and hilarious, Pig Goes Pop! Guarantees giggles from little ones and has all the ingredients to become a new playtime favourite. No batteries are required.
---
Connect 4
By: Hasbro
Age: 6 and up
Challenge a friend to disc-dropping fun with the simple game of connect four. Drop your red or yellow discs in the grid and be the first to get four in a row to win. If your opponent is getting too close to four in a row, block them with your own disc. Whoever wins can pull out the slider bar to release all the discs and start the fun all over again. Connect four, and all related characters are trademarks off Hasbro.
---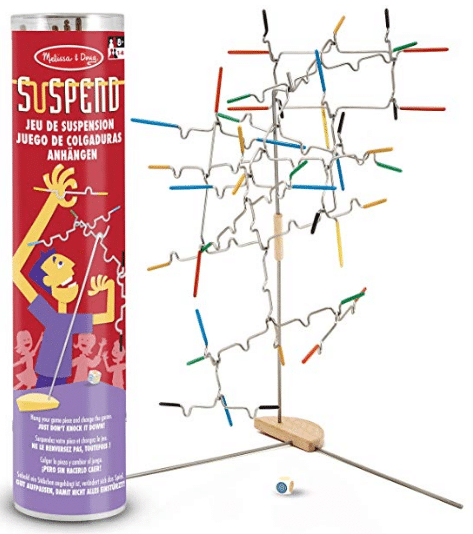 Suspend
By: Melissa & Doug
Age: 8 years+
Exciting balance game for 1-4 players that will have everyone "hanging" on the edge of their seats. Fun to play with a group or even alone.
A family game of tricky hangs and steady hands! Try this hanging balance game, and you'll be hooked! Suspend comes with 24 notched, rubber-tipped wire pieces to hang from a tabletop stand. Sound easy?
Try adding another piece! Each time a bar is added, the balance shifts, the difficulty changes and the incredible midair sculpture transform. Can you add all your game pieces without making it fall? This tricky game for 1-4 players is a test of steady nerves and steady hands.
---
KerPlunk
By: KerPlunk
Age: 5 years+
Playing time: 15 minutes.
A nerve-racking game of skill and judgement with a helter-skelter marble drop. Choose carefully – pull the wrong one and KERPLUNK, the game is over!
---
9-11 YEARS OLD GAMES
---
Balloon Bot Battles
By: KD GAMES
Age: 8 years+
KAPOW!! Action-packed, balloon-bursting, robot fighting game! Don't let your balloon bot get popped in this thrilling action game!
Battle it out with your opponent to pop their balloon bot before yours to win the game! Balloon Bot Battle is an action-filled game where you pop balloons in fun fights and challenges. Blow up your balloon and go for it!
---
Jenga Classic
By: Hasbro
Age: 8 Years+
Classic Jenga is the easy game that you can play anytime and anywhere. Pull the block, stack it on top, and hope the tower doesn't crash down.
---
Monopoly Classic Game
By: Hasbro
Age: 8 years+
The thrill of bankrupting an opponent, but it pays to play nice because fortunes could change with the roll of the dice. Experience the ups and downs by collecting property colours sets to build houses, and maybe even upgrading to a hotel.
The more properties each player owns, the more rent can be charged. Chance cards could be worth money, or one might just say Go To Jail. The Hasbro Gaming and Monopoly names and logos, the distinctive design of the game board, the four corner squares, the Mr Monopoly name and character, as well as each of the unique elements of the board and playing pieces are trademarks of Hasbro.
---
The Game of Life
By: Hasbro
Age: 8 years+
The Game of Life game is full of surprises. Choose a path regarding family, career, adventure, and vacation. In the game of life, game players can make their own exciting choices as they move through the twists and turns of life.
Move the car token around the gameboard from start to retirement, and experience unexpected surprises related to family, career, dream vacations, and other milestones of life. Who is headed for wealth and fortune? The player with the most money at the end of the game wins!
---
Doctor Who Cluedo
By: Winning Moves
Age: 8 years+
In this special edition of Doctor Who Cluedo – The Classic Mystery Board Game sees you become a real detective to find clues and solve the mystery that awaits you.
Missy, formerly the master, escaped from Gallifrey when the Doctors freed the planet from the Time War in The Day of The Doctor. Now, only she knows its whereabouts.
But as she watched the Doctor and Clara on their adventures through season 8, she left a vital clue to its location somewhere in space and time, and one of the doctor's enemies has found it. Can you figure out what the clue is, where she left it and who holds the key to locating Gallifrey and sending the doctor home?
---
QUESTION:
What is your favourite game to play with your kids? Let us know in the comments below and we will try and include it on our next board games and games blog post.