You know the times when you want to find out how to do something.
Whether it's a sport, cooking recipe, home DIY task or even play a musical instrument.
The first thing most people do today is to get on the internet and search for an answer.
Search engines will deliver articles and blogs so you can read up on the subject.
Well, YouTube is the second biggest search engine in the world and is owned by Google (the biggest search engine in the word).
If you do the same search on YouTube as you did on Google, it will list all the answers as videos.
What we've ended up doing
We have been asking our parents in the whats on club and doing some research on the best channels that are child-friendly.
4 Kingdoms education team came up with a list (thank you to all the parents that contributed) and have gathered them below for you to check out.
First there is a complete channel app for all ages by Youtube themselves.
App Name: YouTube Kids
Platforms: iOS & Android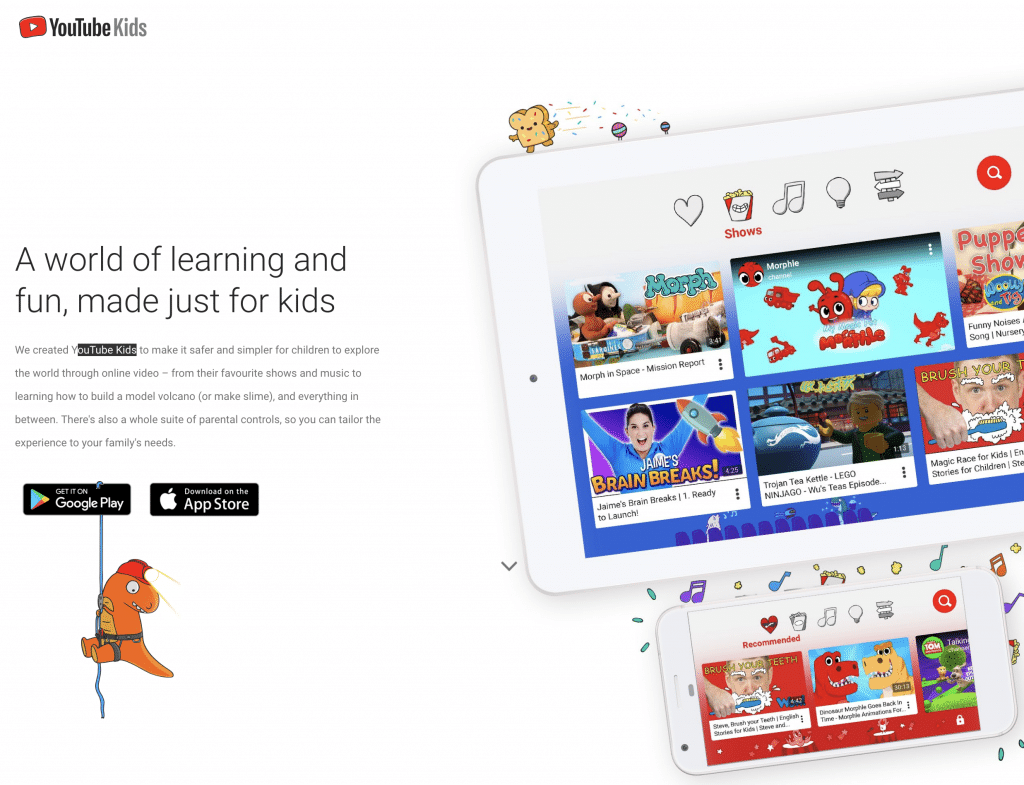 URL: https://www.youtube.com/yt/kids/
YouTube Kids to make it safer and simpler for kids to explore the world through online video. From their favourite shows and music to learning how to build a model volcano (or make slime ;-), and everything in between.
There's a whole suite of parental controls, so you can tailor the experience to below:
Control what your children watch by handpicking the videos, channels and collections that they can see.
Keep tabs on what your children are watching in the app.
Turn search on/off for a more contained experience.
Set up a timer to put limits on how long your kids can play with the app.
Alert us immediately by reporting videos that shouldn't be in the app. The video will be sent to us for fast review.
Gather your family and enjoy YouTube Kids on select TVs
---
0 TO 5 YEAR OLD
Masha and The Bear
URL: https://www.youtube.com/user/MashaBearEN
With kindness and comedy in its heart, the show follows the adventures of a little girl Masha and her friend, The Bear.
Their relationship is a metaphor of how a child interacts with the big world and how an adult can aid with this difficult task.
Masha is a restless little girl who can hardly stand still due to her endless energy – everything she comes into contact with must be tried on!
She's friendly beyond description and treats everyone like she's known them for ages. Her curiosity and creativeness cause funny adventures.
---
Sesame Street

URL: https://www.youtube.com/user/SesameStreet
Welcome to Sesame Street.
If by some chance, you were looking for Elmo, Cookie Monster, Big Bird, Grover, Oscar, Bert & Ernie, Telly and friends. You are in luck because they are all here!
---
Thomas & Friends

URL: https://www.youtube.com/user/thomasandfriends
Join Thomas, James, Percy, Gordon, Emily and all their friends as they explore the Island Sodor and the mainland beyond. The fun and cheeky engines will take your child on a journey of endless discoveries and teach valuable life lessons along the way.
Look for new updates every week with new episodes from the Thomas Creator Collective every Friday!
---
Peppa Pig
URL: https://www.youtube.com/user/theofficialpeppa
Peppa lives with her mummy and daddy and her little brother, George.
Her adventures are fun, sometimes involve a few tears, but always end happily.
---
Simple Kids Crafts
URL: https://www.youtube.com/user/simplekidscrafts
Here we share Miniatures, Real Mini Crafts, 5 Minute Crafts, 1 Minute Crafts, Doll crafts, Dollhouse and Miniature Crafts, General DIY, Doll Crafts for (Monster High, Barbie, Winx, My Little Pony, American Girl).
Teen / Tween DIY Tutorials, L.O.L, Toy Reviews, Gifts & much more. Most crafts are easy, fast, simple and inexpensive. Let's play together!
Simplekidscrafts has been recognized among Youtube's Top Educational Kids Crafts Channels
---
Super Simple Songs
URL: https://www.youtube.com/channel/UCLsooMJoIpl_7ux2jvdPB-Q
Kids songs, nursery rhymes, and more! Learn and explore through song and movement with Super Simple Songs! Our team of educators has created some of the most popular children's songs on YouTube to get up, move, and sing along with! Get ready for a musical adventure in rhyme!
---
6 TO 12 YEAR OLD
Cartooning 4 Kids
URL: https://www.youtube.com/channel/UC-biucJWhM8HwjsQ96uoIUw
Step by step drawing tutorials for young artists and beginners. Draw your favourite characters from movies, Pokemon, Disney, Marvel, Video Games, Cartoon Network and much more. New art lessons posted every week.
---
the brainscoop
URL: https://www.youtube.com/user/thebrainscoop
From the Chicago Field Museum comes this quirky educational channel that provides a glimpse behind the scenes of a natural history museum.
Trips to the animal prep lab (where skinning and gutting happens), hands-on demonstrations of earth science concepts, and explanations of animals and species are hosted by the highly entertaining and knowledgeable Chief Curiosity Correspondent Emily Graslie.
Each video has a "viewer's discretion" disclaimer and a "gross-o-meter" meter so you can decide if it's appropriate for your kid.
---
TED-Ed
URL: https://www.youtube.com/user/TEDEducation/
TED-Ed's commitment to creating lessons worth sharing is an extension of TED's mission of spreading great ideas.
Within TED-Ed's growing library of TED-Ed animations, you will find carefully curated educational videos, many of which represent collaborations between talented educators and animators nominated through the TED-Ed website
---
Cosmic Kids Yoga
URL: https://www.youtube.com/channel/UC5uIZ2KOZZeQDQo_Gsi_qbQ
Yoga, mindfulness and relaxation for kids. Interactive adventures which build strength, balance and confidence – and get kids into yoga and mindfulness early!
---
Sick Science!
URL: https://www.youtube.com/user/SteveSpanglerScience?feature=watch
Steve Spangler is a celebrity teacher, science toy designer, speaker, author and an Emmy award-winning television personality.
Probably best known for his Mentos and Diet Coke geyser experiment that went viral in.
Spangler is the founder of www.SteveSpanglerScience.com, a Denver-based company specializing in the creation of science toys, classroom science demonstrations, teacher resources and home for Spangler's popular science experiment archive and video collection.
A frequent guest on the Ellen DeGeneres Show and Denver 9 News where he takes classroom science experiments to the extreme. For teachers, parents or DIY Science ideas.
QUESTION:
What is your children's favourite YouTube channel? Let us know in the comments below and we will try and include it on our next "YouTube channels to watch" blog post.