Here at 4 Kingdoms, we want to help you as a parent as much as we can. So we have got our heads together to find the five best books to read with your kids.
We live in a world today where time is short, you're busy, you're working. You're trying to juggle balls while spinning plates at the same time…we get that.
Sometimes we miss the things that are important for our family, children and learning.
As you know, 4 Kingdoms Adventure Park & Family Farm is an excellent place for kids and families to have fun.
However, you may not know that we are also an educational company running events such as "kids into the countryside challenge". And, supporting colleges and schools with over 70-course modules covering EYFS KS1 and KS2.
So, we have trawled the book stores and the internet to find the best 5 books that we think your children will enjoy.
We chose the best 5 books below based on storytelling, education and learning.
The books we have suggested are broken down to the best 5 (in our opinion) and separated by age group. So, if you have more than one child of different ages you can treat them all to a book.
0 to 5-year-olds
Title: The Tiger Who Came to Tea
Author: Judith Kerr
Publisher: HarperCollins Children's Books
Amazon Link:
Summary:
Sophie and her Mummy are having tea in the kitchen when in walks a hungry tiger who asks to stay to tea. After eating everything, he moves on to Daddy's supper and for good measure also cleans out the fridge.
When Daddy gets home, he decides they should all have supper out. The next day Sophie and Mummy buy an extra big tin of tiger food – just in case the tiger comes back!
This delightful picture book from Judith Kerr is a true classic, with an enduring appeal for children and parents alike. Kerr's vibrant, colourful illustrations and simple but charming story make this a perfect book to enjoy reading together.
---
Title: There's a Snake in my School!
Author: David Walliams
Publisher: Harper Collins Children's Books
Amazon Link:
Summary:
Miranda loves to be different, and on Bring-your-pet-to-school Day she introduces everyone to her very DIFFERENT pet…
Penelope, the snake.
Miss Bloat, the headmistress, doesn't think snakes should be allowed in school. But Penelope has other ideas…
Introducing a spectacularly slithery new picture book packed with mischief and mayhem from two superstars!
---
Title: The Very Hungry Caterpillar
Author: Eric Carle
Publisher: Puffin
Amazon Link:
Summary:
Eric Carle's The Very Hungry Caterpillar deserves its reputation as a much-loved classic. Full of bright and imaginative illustrations and original cut-out details. It charts the progress of a very hungry caterpillar as he eats his way through the week.
The pictures readily engage children's attention and involve them in the reading process. While helping them learn about numbers, days of the week and time. This is a fantastic book for pre-school children, who are sure to demand it time and time again.
---
Title: Ten Little Fingers and Ten Little Toes
Author: Mem Fox
Publisher: Walker Books
Amazon Link:
Summary:
Babies may be born in different countries, look a little different and have different needs. But, the things that most have in common are ten fingers and ten toes. This is the uniting theme of this perfect first book for sharing. From the swaddled newborn to children sitting alone, then crawling together, and then standing. The illustrations show babies born all over the world, all with irresistibly chubby fingers and toes.
This book provides an excellent opportunity for readers to interact with the baby while reading aloud. And, when the tale turns to the baby that is 'mine, all mine' and supplies a final surprise to the 'ten little toes' rhyme, the opportunity for bonding is made perfect. Accompanied by Helen Oxenbury's lovely illustrations, this is a charming book that is perfect for little ones.
---
Title: Would You Rather…
Author: John Burningham
Publisher: Red Fox
Amazon Link:
Summary:
Would you rather that your house was surrounded by water, snow or jungle? Would you rather be covered in jam, soaked with water or pulled through the mud by a dog? How about being made to eat spider stew, slug dumplings, mashed worms – or drink snail squash? None of these? Perhaps, all things considered, you'd just like to go to sleep in your own bed.
A classic for children, Would You Rather… presents an alternative to a traditional story. By imagining a mixture of fantastical and real-life choices. Some things are silly, like yucky food choices, but some are closer to home, like being lost in a shop. Both of which might make children feel embarrassed or worried.
The format of the book and lack of judgement enables readers to talk together about what they'd rather do and why. Important in building confidence with little ones about making their own choices for their own reasons. In this way, the book can be read for giggly, silly fun, or as part of a focus on choice and independence. Or both! As ever with John Burningham, the emotional perceptiveness of the book – and the sensitivity to how children think and feel – is aware, kind and thoughtful.
---
6 to 8-year-olds
Title: The True Story of the Three Little Pigs
Author: Jon Scieszka
Publisher: Penguin
Amazon Link:
Summary:
What really happened to the three little pigs and the big bad wolf? Find out the truth in this hilarious picture book.
In revelatory newspaper style, this brilliant picture book exposes the truth about the three little porkers and one A. Wolf. Putting a brilliantly inventive and amusing spin on fairy tales, Jon Scieszka and Lane Smith bring a refreshing contemporary twist to a familiar original.
---
Title: The BFG
Author: Roald Dahl
Publisher: Puffin
Amazon Link: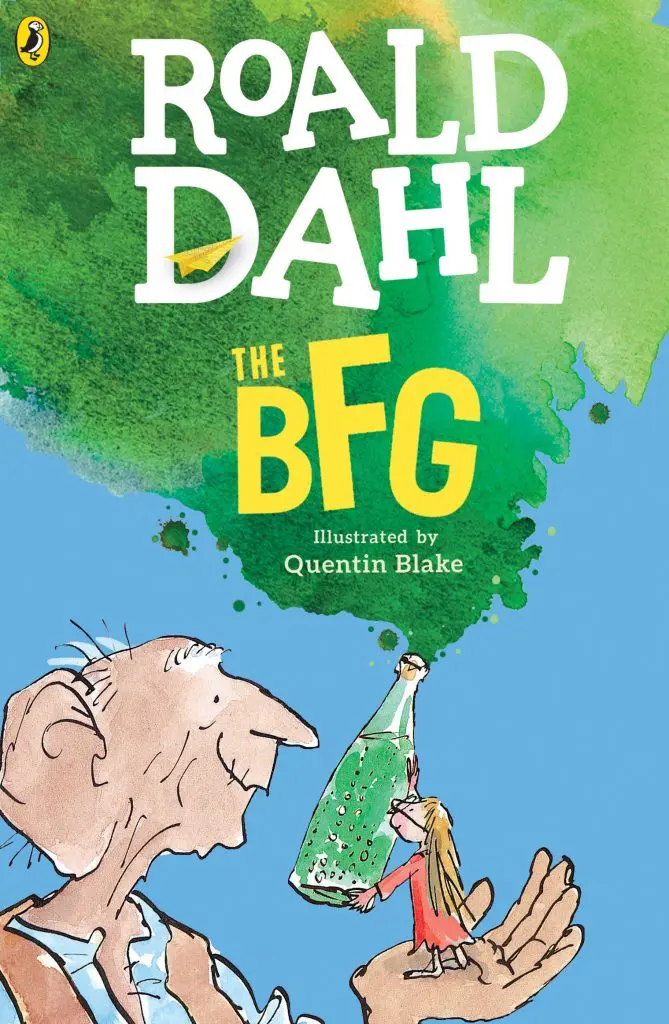 Summary:
The BFG stands for Big Friendly Giant, who unexpectedly spirits a little girl named Sophie out of bed, and into the land of the child-eating giants. With Sophie in his top pocket, the BFG sets off to rid the world of the big, gruesome giants who guzzle up 'human beans' – the Bloodbottler, the Fleshlumpeater and all their rotsome friends.
Full of outrageous humour and plenty of jokes about bodily functions that children will love. This warm-hearted story is one of Roald Dahl's many much-loved tales that continue to be cherished by readers of all ages.
---
Title: Pippi Longstocking
Author: Astrid Lindgren
Publisher: Oxford University Press
Amazon Link:
Summary:
Follow Pippi Longstocking on her amazing adventures as she moves into Villa Villekulla with a horse, a monkey, and a big suitcase of gold coins, and meets Tommy and Annika who quickly become her best friends. They join her on her amusing escapades – joining the circus, dancing with burglars and celebrating her birthday.
This lovely new edition of a classic has been brought up-to-date. The collection brings together 11 favourite Pippi stories and will ensure that readers young and old fall in love with this fabulous heroine.
---
Title: Flat Stanley
Author: Jeff Brown
Publisher: Egmont
Amazon Link:
Summary:
Stanley Lambchop wakes up one morning to find a notice-board has dropped on him in the night, leaving him happy and healthy, but only half an inch thick. It's a little unusual, but he finds he can fly like a kite, be sent on holiday through the post and can use his unique skills to foil a burglary at the local art gallery. Still, he's glad when his brother Arthur has a bright idea to help bring him back to his normal shape.
This amusing story is full of wit and humour and is sure to intrigue young readers. Originally published in 1964, Jeff Brown's original tale has since become a well-established favourite both in the classroom and at home.
---
Title: The Worst Witch
Author: Jill Murphy
Publisher: Puffin
Amazon Link:
Summary:
Long before Harry Potter first went to Hogwarts, trainee witch Mildred Hubble embarked on life at Miss Cackle's Academy for Witches…
Loveable but accident-prone Mildred is probably the worst witch ever to attend Miss Cackle's Academy: her spells go wrong, her broomstick crashes, and then she turns Ethel, the teacher's pet, into a pig! She can't even put her witch's hat on the right way round, and strict teacher Miss Hardbroom is not at all impressed. But when Mildred discovers a plot against the school, can she save the day?
Newly confident readers will love reading this light-hearted and humorous story, which has an irresistible young heroine in Mildred. With plenty of lively fun, plus illustrations from Jill Murphy, it remains a firm favourite.
---
9 to 11-year-olds
Title: Journey to the River Sea
Author: Eva Ibbotson
Publisher: Macmillan Children's Books
Amazon Link:
Summary:
This satisfyingly traditional story is set in the early 1900s. Orphan Maia is thrilled to learn she is to live with relatives in South America. She cannot wait to experience the sights, sounds and smells of the Amazon and is particularly looking forward to meeting her twin cousins.
When Maia arrives, however, the family is far from welcoming, and she is saddened to see that they have blocked out all evidence of the rainforest from their stuffy home. Maia turns to her strict yet kindly governess, Miss Minton, for company, and strikes up some unusual and rewarding friendships.
This enchanting story has all the trademarks of Eva Ibbotson's writing. Maia is a wonderful heroine, and Ibbotson weaves a charming, compelling and warm-hearted tale of friendship, our responsibility to those around us, and the importance of the natural world. As well as being an exciting adventure story, this award-winning contemporary classic will leave readers with plenty to think about.
---
Title: Matilda
Author: Roald Dahl
Publisher: Puffin
Amazon Link:
Summary:
Matilda is not yet five years old, and already she is a very unusual child. Teaching herself to read, she works her way through all the books in the children's library and then gets started on the adult section, to the amazement of the librarian. Her narrow-minded parents don't notice that they have a genius in their midst – but is soon becomes clear that underestimating Matilda is a big mistake.
When she starts school at Crunchem Hall, Matilda meets the frightening and bullying headmistress, Agatha Trunchbull, and witnesses her terrible temper. Soon, she puts her extraordinary talents to work to get the better of Miss Trunchbull and the other unpleasant grown-ups around her – as well as to help the warm-hearted class teacher, Miss Honey.
This modern fairy-tale with a brilliantly inspiring young heroine is one of Roald Dahl's best-loved stories. Full of magic and mischief, children will love witnessing Matilda pit her strength, courage and cool intelligence against the nasty and spiteful adults in her life, and ultimately coming out on top.
---
Title: The Borrowers
Author: Mary Norton
Publisher: Puffin
Amazon Link:
Summary:
The Borrowers are tiny people who live in the secret places of old houses – behind the mantlepiece, inside the harpsichord, under the kitchen clock. They borrow everything from humans, existing on the scraps they collect from the homes they live in.
Arriety Clock's father, Pod, is an expert borrower, able to scale curtains using a hatpin and bring back a doll's teacup without breaking it. Girls aren't usually supposed to go borrowing, but Pod makes an exception for Arrietty, who can't wait to explore the house and gardens that lie beyond her cramped home. But when she is at last allowed to accompany Pod on one of his borrowing expeditions, something terrible happens – she is 'seen' by a human boy.
This beautifully-written story will enchant young readers, who will love the idea of the Borrower's hidden 'wainscot world'. Exciting, mysterious and with a hint of sadness, it has a deserving reputation as a classic of twentieth-century children's literature.
---
Title: The Wolves of Willoughby Chase
Author: Joan Aiken
Publisher: Vintage
Amazon Link:
Summary:
There are wolves outside the walls of Willoughby Chase, but for cousins Bonnie and Sylvia, the real danger lies inside. Their wicked governess Miss Slighcarp is working with a network of criminals, forgers and snitches to carry out a terrible plan. Bonnie and Sylvia must use all their wits if they are to escape their cruel governess – and the wolves.
Set in an alternative 1832, in which Good King James III is on the throne, and Britain is ravaged by wolves which have migrated through the newly-opened Channel Tunnel, The Wolves of Willoughby Chase is a brilliantly inventive and imaginative offering from classic children's author Joan Aiken. Young readers who enjoy this story will relish the other wonderfully idiosyncratic stories in this series, which continues with Black Hearts in Battersea.
---
Title: Stig of the Dump
Author: Clive King
Publisher: Puffin
Amazon Link:
Summary:
Barney is a solitary little boy who often wanders off by himself in the countryside. Exploring an old chalk pit, he finds himself in a cave where he meets a strange boy who wears a rabbit skin and speaks in grunts. His grandparents don't believe Barney when he tells them about his new cave boyfriend – but nevertheless, the two enjoy plenty of fun together.
This lovely story about the unlikely friendship between Barney and stone-age Stig has stood the test of time. Although it is now over 50 years old, contemporary children will love reading about the pair's lively adventures. Clive Kings' story is perfectly accompanied by Edward Ardizzone's classic illustrations.

Question?
If you have any favourite books you read with your kids and you think we should share with other parents let us know in the comments below and we can add them to another post.